What movie would be complete without a behind the scenes feature on the process of the film. Document of the Dead is a little different then most behind the scenes features. For instance, this focuses primarily on George Romero and his films and how he goes about making them. All the actors talk about working with him and what it's like to be in one of his films. Roy Frumkes takes us on a behind the scenes look at the making of Dawn of the Dead from pre-production all the way until post-production. He also delves in George's other works, such as Martin, which came out a year before Dawn did.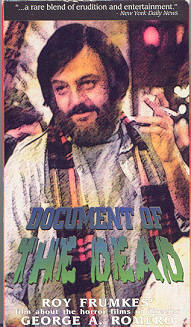 This is one of the things that a Dawn of the Dead collection should not be without. Hearing George explain why he shoots the way he does and why he loves to make films is priceless. Here George is followed around by Roy Frumkes for a weekend during the Dawn shoot. Roy also talks with the cast (Gaylen is not interviewed for some reason), David is interviewed in his zombie get up. Rubinstein, Michael Gornick and John Amplas are also interviewed, giving insight on different behind the scenes aspects on working with George and how to get a film like that off the ground.
Release Date: 1982
Distributor: Tcc Dcc Ccc, Ltd.
Length: 84 min
Format: VHS
Status: Out of Print (had to order my copy)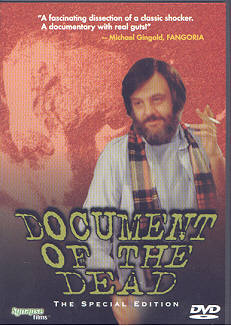 The special edition DVD contains a lot of extras not included in the VHS version. For instance there is a running audio commentary by Roy Frumkes and others on the making of this feature. Behind the scenes of George's Two Evil Eyes, and deleted footage from the original release of Document of the Dead.
Release Date: 1998
Distributor: Synapse Films
Length: 84 min, Supplemental Material, 30 min
Format: DVD
Status: ???