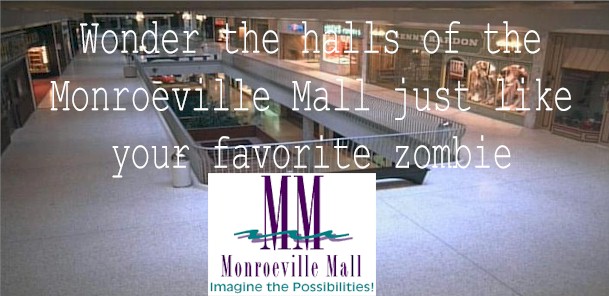 Imagine yourself locked in a mall surrounded by the undead wanting to eat your flesh, what do you do? You take up shop and clear house. At least that's what the cast of Dawn of the Dead did to survive the zombie plague that was engulfing the world.
Nestled right off of PA Route 22 in Monroeville, Pa the Monroeville Mall is home to over 150 stores to satisfy your consumerism urges. Walk the halls where your favorite zombies and zombie killers roamed over 20 years ago. Being a fan of this movie has it's advantages, for one thing you can walk on the set of your favorite movie and not have to drive to Hollywood and be in a tour group to do so. Plus you might be able to meet some other Dawn of the Dead fans that are there to take it all in with you. Where else can you get discount prices and possibly devoured by a hungry zombie at the same time, only at the Monroeville Mall.
Below you can take a virtual tour of the mall with up to date pictures. New pictures will be added every time I take a trip. So sit back, turn the lights down, put Dawn of the Dead in the VCR/DVD and enjoy!


Lower Level


Annex