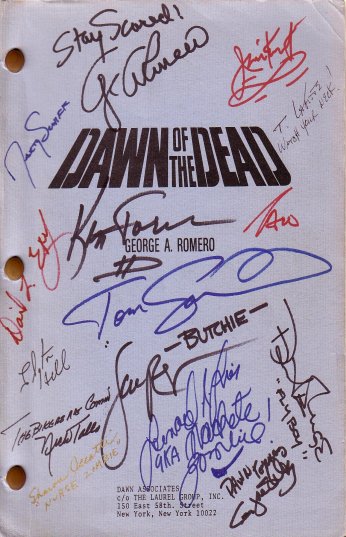 This probably has to be my "Holy Grail" of Dawn collectables. I got this in the summer of 99, one of the first things I ever bought that wasn't a video or DVD. Yes, it has the original suicide ending, because the ending was changed on a whim by George, the script stayed the same. It was first signed by Tom Savini at the 1999 Monster Bash. Ken and Scott signed it at the October 1999 Chiller Theatre show. George Romero signed it when I met him in Philadelphia in October of 2000. The rest I got signed at the Pittsburgh Comicon in April 2001.
Autographs are as follows: (Left to right)
Top Row: Marty Schiff, George Romero "Stay Scared", Jim Krut (helicopter blades), Tommy Lafite (Miguelito Zombie)
Middle Row: David L. Early, Ken Foree, Tom Savini, Taso Stavrakis
Bottom Row: Clayton Hill (Sweater Zombie) Nick Tallo "The bikers are coming", Sharon Ceccati (Nurse Zombie), Scott Reiniger, William "Butchie" George, Leonard A. Lies aka Machete Zombie (with hand drawn machete), David Emge "Flyboy", "Dawn Forever," G. Joe Shelby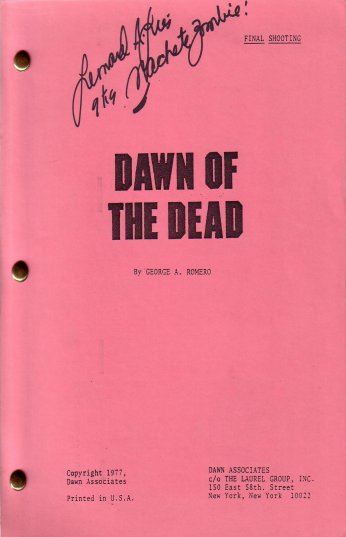 This is another copy of the script that I've come across over the years, this copy is signed by Leonard "Machete Zombie" Lies.