I guess you could say, hell has finally frozen over. Believe it or not, the recently dead have risen and are attacking humans and devouring their flesh. You read that correctly, they eat the flesh of their victims, warm human flesh is their goal and we humans are the target.
The reports came in initially from western PA, a morgue reported the cadaver he had just received started to rise and come after him, he locked the corpse in the room until authorities could arrive. Once they arrived to were shocked that when the opened the door, the corpse came after them and after repeated shots to attempt to drop it, the corpse still continued after them.
Only after a stray shot connected with the corpse's skull did it drop. But damage had already been done, a police officer, whose name is being withheld, was bitten on the arm while trying to defend himself. He was taken to the local hospital where they are keeping him because of the unknown causes of such a bite.
The next report of the same incident came when a paramedic team arrived at the home of a solitary farmer whose wife had just passed on. When they were tending to the woman, she suddenly rose and took a large bite of the arm of a paramedic and began to devour it, once she was done she began to attack the same, shocked medic, he was completely disembowed.
Once more reports come in we will pass them along to you...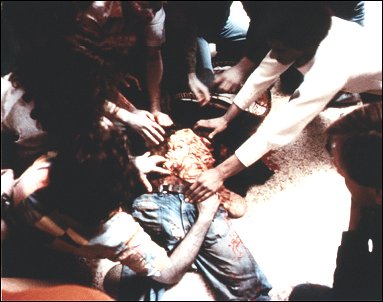 The eat human flesh
These creatures are considered very dangerous. If you encounter any of the creatures do not attempt to stop them, just run. Run to the nearest safe place you can find until they either wander away or help arrives.
If you intend to stay at home, please lock all doors and windows and do any reinforcing if you know of any that needs done. Stock up on batteries and food, the phones all across the eastern seaboard do not seem to be functioning unfortunately.
If you do venture out, venture out in groups, do not go alone. If you have any weapons, be cautious as to not mistake a human for a creature, there are reports of that happening.
Looting has been reported on a mass scale, we advise everyone to try to band together and not fight against each other. This is turning out to be a more serious crisis then anything this world has ever seen in recorded history.
If we as the human race intend to survive this epidemic then we must act together to eradicate this problem and start to rebuild our society. We must remain rational, it's the only way.